Airport Identifier:
ID74
Elevation:
5835
Latitude:
44.5365697
Longitude:
-115.3509408
This is a private airstrip, open to the public for food and lodging. [email protected]
When you make your plans for this year, it is important for you to know that the Sulphur Creek Ranch airstrip (ID74) is CLOSED until further notice.
Latest from Kiere for 2023: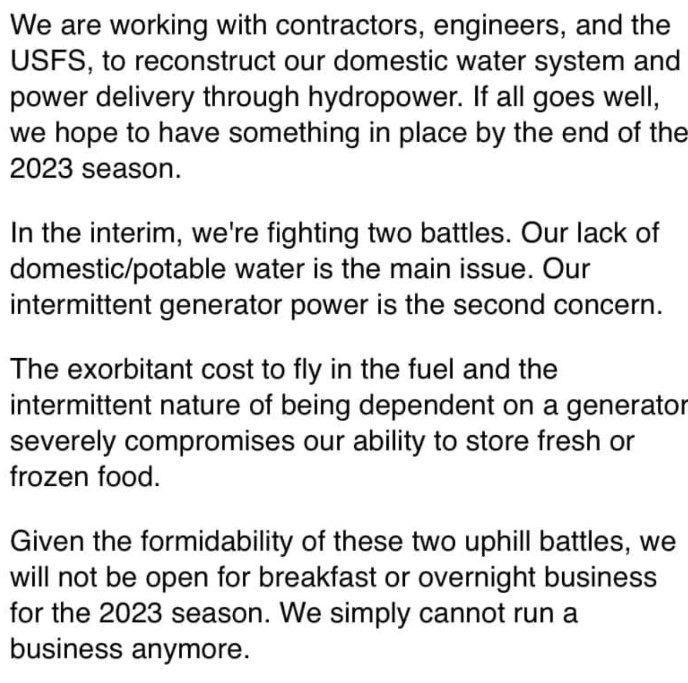 Please go to Our latest NEWS page for more details: Sulphur Creek News
Airstrip Features:
Windsock
Classification:
Airstrips have basic navigational aids and some additional services such as restrooms or camping facilities. May have road access to nearby attractions. Typically located in areas of high use, often in remote settings but maybe accessed by improved roads.
Primary Runway:
10/28
Length:
3300
Type:
Gravel
Live Webcams:
Weather Report:
Stuck 'N Stay Emergency Accommodations
Member Name
Scott Gregory
Member Name
Christina Tindle
Airstrip Manager:
Kieri and ValDean
District:
#3 Treasure Valley
District Director:
John Davis
No pilot reports to show at this time.